I see a lot of these posts going around on blogs from one week to the next and I love the idea that it encourages using products that have long been forgotten and pushed to the back of the draw rather than going out and buying yet MORE new products. I had a rummage in the 'reserve' draws and pulled out these three beauties.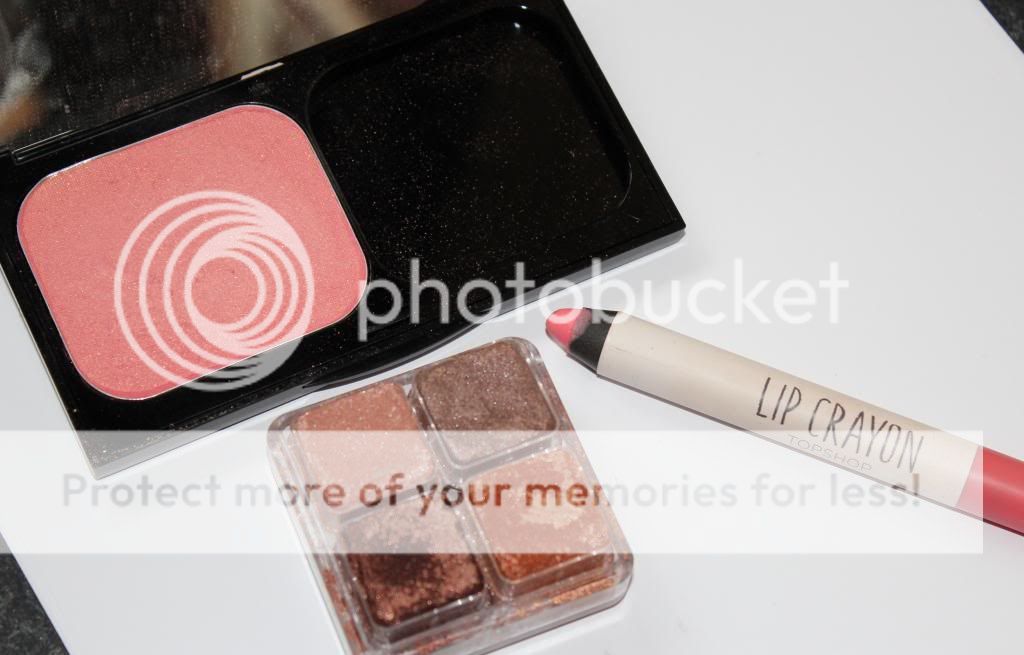 Sax blusher in Rosy Glow, The Body Shop shimmer cubes palette 06, Topshop lip crayon in Coy.
This blush is a really beautiful rose pink with a lot of gold shimmer running through it. If you don't like any shimmer in your blushers, this isn't for you. I love the fact that it eliminates the need to add a highlighter afterwards….although thats not to say that I don't add one!
I've had this for longer than I can remember, but it really has laid unloved in my collection. The coppery and champagne shade in this palette are the kind of colours I reach for on a daily basis so I can see this becoming my everyday palette now I've bought it out of retirement.
The Topshop lip crayons are very matte which is just how I like my lip products at the moment. They glide on beautifully (just make sure you exfoliate your lips first….) and have great staying power. This one in Coy is a beautiful peachy pink shade….and who doesn't love a peachy pink?! This will look gorgeous with a sweep of the above blusher and some of the copper shadow on the lids from the Body Shop shimmer cube palette.
Does anyone else do this regularly? What have you rediscovered from your stash?